Lore Master
Contributor
Design
Art
Hey guys,
New game design concept! This one surrounds our good, old, slimey buddy Gooey. In GooKeeper you function as a goo wrangler / breeder / keeper. Your job is to capture various gooeys in the wild, keep them fed and happy, and combine them into brand new goos; for fun and profit! What do you mean this sounds like Slime Rancher? How dare you! OK, it's a little similar, but still different.
You will start off with enough money to build a basic pen for your GooZoo. The more gooeys you capture, the more profit you get from visitors to your GooZoo. The more variety of gooeys, the more visitors, the higher you can charge for tickets, and the more gameplay elements you unlock/upgrade.
Capturing gooeys will work like capturing ghosts in Ghostbusters. You fire a plasma based stream of wild energy at the Gooey and then wrangle it into a slimepod - a small device that can hold 1 gooey. Slimepods must be placed on the ground and activated by the player. A gooey might just happen to walk over one and you could catch them this way. But the plasma stream will act like a lasso and allow you to move a gooey (who will fight a bit - like a fish on a line) onto the slimepod. The player can only carry five slimepods to start with but can upgrade gear to carry more. You can also upgrade the plasma gun to work more effieciently (cool off faster, fire straighter and more accurately, work better with newer or different gooeys, etc).
Each gooey will have a different color and AI to match it. There are three basic gooeys in the wild.
Blue Gooeys are your standard type.
- Not aggressive, but not necessarily friendly either.
- Easy to catch
- Low payoff - visitors to your GooZoo are unimpressed and pay less to visit
- Prefer relaxing in shady places and near water (forest biomes)
- Like to eat snargs (another critter to catch)
Red Gooeys are very aggressive
- They charge and attack the player on sight
- They fight and resist when being wrangled by the player
- High payoff - visitors love to see mad red goos.
- Prefer the open plains and deserts
- Like to eat lavarocks (an object found in desert biomes)
Yellow gooeys are very friendly - almost too friendly
- They swarm the player, but don't hurt the player
- They hinder player movement by sliming the player with "love"
- They can be difficult to wrangle because they stick to each other in packs. You have to pull them apart from each other.
- Medium payoff - visitors find yellow goos to be super cute and adorable
- Like sunny fields with flowers
- Like to eat flowers and lick players
All other gooeys can be "bred" to make new and exciting versions. They will work just like the color wheel - so Blue + Yellow = Green (our mascot!) and Red + Yellow = Orange, etc.
The new versions can have random blends of traits from their parents. Fun with inheritance!
Another component is "base building". As you earn more money you'll be able to buy new elements to make your GooZoo that much snazzier. The more interesting your GooZoo, the more money you earn. Elements like cutomer bathrooms, benches, food stalls, or upgrades to your pens, etc. may make the game more motivating and fun for players. It should be as open a system as possible with players able to terraform their zoos just like you normally could terraform in Terasology - try to keep this as open and creative as possible.
I will have some concept art coming along to support these ideas. Let me know what you think.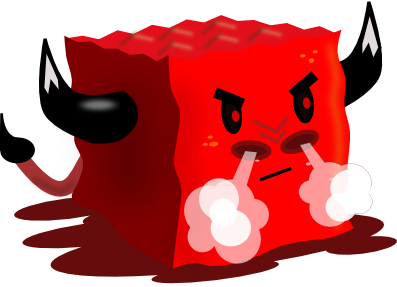 Last edited: