Org Co-Founder & Project Lead
Contributor
Design
Logistics
SpecOps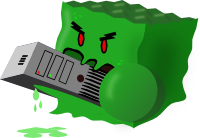 So that was a fun week!
To recap in one place as info has been a bit all over the place: Slightly more than a week ago the second drive in our server's RAID array failed, 6 months after the first one had silently stopped updating. After thinking we recovered onto the other drive we learned that whole "Oh, the data is from March ... hmm!"
Long story short we restored what we could and rebuilt what we couldn't. We moved to
DigitalOcean
"droplets" instead of a dedicated server from
Hetzner
and also put our terasology.org sub domains to use. If you want to help us pay for our hosting and need tiny (or big) super flexible servers in less than a minute please use
our referral link
! Our sites now are:
http://terasology.org
- Splash site, hosted as a
GitHub page
- links to everything else
http://forum.terasology.org
-
Xenforo
-powered portal and forum, some addons still pending work. Data / new users since July 28th is missing
http://jenkins.terasology.org
- Our build server (also hosts the applet - no extra modules in it yet though)
http://artifactory.terasology.org
- Artifact repository for developers to grab stuff from
Special thanks to
@begla
@Adeon
and
@AbraCadaver
for helping with the hosting woes! And for suggestions on alternative providers on IRC
We've hunted outdated links all over the place and got a bunch but I'm sure there are more. Especially here in the forum with threads linking to other threads. We're trying to fix the redirect on forum.movingblocks.net but it may not be working for a bit. Please let us know and help fix outdated links when you find them. Also note that our servers / sites are now "final" again but may still be running on underpowered droplets and need to be upgraded later, which will include a little more downtime (but no domain changes)
While setting up on new servers we rebuilt just about everything and added some new stuff:
Launcher has been updated with the new URLs
Stable build has been released mainly just as it was rebuilt
A huge PR that's been the main bulk of work lately has been merged and is now in the latest unstable. Extra thanks to @Immortius and @Josharias for the huge amount of work this has been!

Adds support for infinite height (stackable chunks) - yay! Time for sky islands and deep dungeons!
Whole new world generation framework based on "facets" - needs more work for new and existing worlds of course, especially Perlin which hasn't yet been completely reimplemented

New module: BlockPicker by @Josharias, which is an infinite block inventory akin to creative mode (had something similar on F5 once). Get it with 'b' with the module active (latest unstable, not in latest stable yet)

The changes in latest unstable break backwards compatibility for saved worlds! Hopefully this is the last minor time we break worlds, short of possible bug fixes in the near future. This brings us very close to Alpha ready!
In other news:
New potential setting: Western with cartoony robots. See its thread for some concept art from @SuperSnark (when we fix link / re-upload, heh) and this neato behind-the-scenes by @glasz on creating one of the models. @Adeon is also working on big curvy (gasp!) railroads to go with it!

Soon we need to get started on internationalization again - feel free to post your ideas and feedback. @Halamix2 posted a nice overview of the available translation frameworks

As a few have noticed we're starting up collaboration with TheyCallMeDanger, the author of OreSpawn who is looking for a new home away from the old home Microsoft just got a lien on - cool potential! Welcome!

Hi to all our new friends arriving daily now
Last edited: